The golf towel may not be an exciting item to purchase, but it's actually the most critical golf bag accessory. It protects you, your clubs, and your golf balls from dirt, sand, and moisture. Did you know that there's more to a golf towel than meets the eye? 
That's right – golf towels have evolved over the last couple of decades and they can actually help you play better golf. There's technology in a new golf towel that you won't find in the dish towel in your kitchen. They aren't expensive, so why not make a small investment in your golf game? 
We can help.

Below we cover how to use a golf towel, what you should look for when you shop, and even provide our favorite products.

Let's get started!
Uses Of A Golf Towel
The golf towel is a true multi-purpose golf accessory. You'll be amazed how many times during a round you reach for it. We'll start with the most obvious – your golf towel will help you keep your golf clubs and golf balls clean. On a hot day, you can use it to keep your hands free from sweat and it's critical to have a golf towel in the rain. Do you enjoy a cold beverage on the course? If so, the golf towel is your best friend if you have a spill. 
We mentioned above that a golf towel could help you play better golf. Let us explain. A small amount of dirt on your golf ball will cause it to curve and cost you strokes. Dirt or sand in the grooves of your irons will prevent you from spinning the ball. If you want to control the golf ball, you need clean clubs. We recommend you use your golf towel to wipe off your club after each shot. 
How To Choose The Best Golf Towel For You
There are 5 factors you need to consider when looking for the best possible golf towel.
1. Size
Golf towels come in all sizes – everything from "washcloth" size to "beach towel" size. We prefer something in the middle. You want enough surface area to meet your cleaning needs during the round, but you don't want to add too much weight to your golf bag. 
2. Material
This is the area that has improved the most over the last couple of decades. Golf towels used to be 100% cotton, which was fine, but not great. We prefer great. More and more golf towels are being made with microfiber and this creates a much better experience for the golfer. There's nothing wrong with cotton, but microfiber golf towels simply perform better. 
3. Color
The perfect golf towel is both functional and fashionable. It's a chance to let your playing partners know about your personality or background. You also may want your golf towel to match your golf bag or stand out (bright color vs. dark color). The right golf towel can be a conversation starter on the first tee. 
4. Water Absorption Capacity
This one is easy. The more water your golf towel can handle, the better. A saturated towel is no longer useful, so you don't want to ever reach that point. Pay attention to the towel's capacity before buying.
5. Price
If you have an unlimited golf budget you can skip this section, but for most of us, price matters. The goal is to get a high-quality product for the best possible price. Any money you save on your golf towel can be re-directed to a different golf purchase. 
7 Best Golf Towels Of 2022
Looking for some recommendations? Here are our favorite 7 golf towels.
1.Sunday Golf Towel
The microfiber golf towel by Sunday Golf is #1 on our list. We love the absorption capacity and the "slit" design which makes it easy to hang on any club in your bag. This is a high-performance golf towel that also looks great. You have plenty of choices of colors and designs. There's no doubt your golfing buddies will be jealous when they see this product.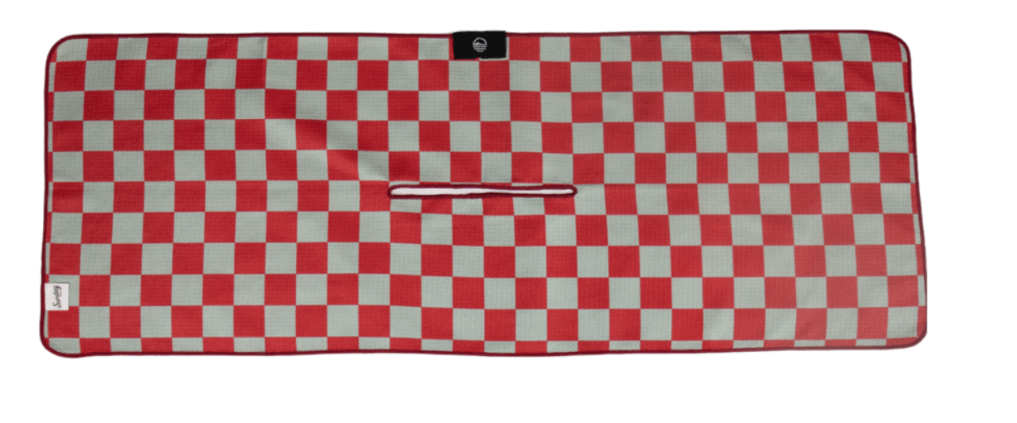 2.Mile High Life Golf Towel
This is a simple golf towel that'll perform well on the golf course. There's nothing flashy about it, but it'll get the job done. Microfiber with a waffle design removes dirt, mud, sand, and grass better than cotton towels. It's hard to beat the price and you can choose from 25 different colors. The Mile High Life golf towel uses a carabiner to attach to your bag. 
3.Callaway Golf Towel
If you play golf, you know the Callaway golf brand. Their golf towel product is a solid option for you to consider. It's made with high absorption microfiber and sports the Callaway logo. Limited color options (black, white), but they will match any golf bag. The attachment mechanism is a small woven loop.
4.Handypicks Microfiber Golf Towel
The golf towel by Handypicks is another example of a microfiber product with a carabiner attachment mechanism. This simple, but effective product won't turn heads but will keep your golf equipment clean and dry on the course. 
5.Frogger Amphibian Golf Towel
The Frogger Amphibian golf towel is a unique product. It's constructed with two different sides and the idea is that you keep one side wet and one side dry. The wet side will help you get more dirt off your clubs and the dry side lets you wipe off the moisture. This golf towel attaches with a carabiner and is available in 7 different colors.
6.Greens Microfiber Golf Towel
The Greens microfiber golf towel is an economical option. No bells and whistles, but you get a towel that will help you perform on the course. A great product if you need to make a bulk order (maybe as tee gifts). It uses a carabiner to attach to your bag and is available in a variety of solid colors.
7.Ghost Golf Magnetic Golf Towel
The Ghost Golf towel is the most expensive on our list but does have one unique feature. The logo is magnetic, so you can pick it up off the ground using your putter or wedge. This is cool, but only useful if you tend to remove your towel from your bag during your round. It's made from microfiber and attaches to your bag with a carabiner. You can select from 10 different colors
Put The Dishwashing Towel Back In The Kitchen
The towel that you use to do dishes should never make it out on the golf course. Instead, find a towel that was designed with a golfer in mind. Take advantage of microfiber technology, easy attachment to your clubs/bag, and additional water absorption. If you're going to lose to your buddy, let it be about your swing, not your golf towel. Good luck and play well!
Author Bio:
Ray has been playing golf since he was 10 years old. He played for his High School and College golf teams. Ray maintains a "plus" handicap but spends most of his time now coaching and growing the game.