Summer may be coming to an end, but that doesn't mean you have to stop having fun outdoors. Fall gives you some relief from the sweltering heat of summer, so why not get active and take one of these fun-filled outdoor activities for a spin?
Downhill and Cross-Country Skiing
Head north to a snow-covered mountain or resort to try your hand at downhill or cross-country skiing. The former is sure to get your adrenaline pumping as you cruise down the slopes, while the latter makes for a soothing time in nature. If you're new to skiing, you may need a few lessons on how to use this equipment before you hit the lift. You'll be traveling between 20-40 mph downhill, so you'll need to wear a helmet and goggles, in addition to warm winter gear. 
Cross-country skiing doesn't provide a rush like downhill skiing, but it will help you relax. You may not need a helmet, but you'll need to navigate the trail as you go along. Regardless of where you plan on skiing, use a skiing communication device to stay connected to your companions. Your instructor can pass along tips in real-time as you get your bearings. You can also use the device to coordinate your ride with your friends, warn each other of potential danger, or share your excitement as you ski down the slopes. 
Dirt Bike Riding and Racing
If you're tired of hiking on foot, take a ride on a dirt bike or ATV to explore more of the wilderness. These vehicles are designed to travel on off-road surfaces, including dirt, sand, gravel and mud. They come with added suspension to reduce the bumps of the trail and improved traction for more control. Rent an off-road vehicle and take it for a spin at a designated trail or national park near you. Keep in mind that these vehicles are not street legal, so you'll need to stay off paved roads. 
You've probably seen people riding around on an ATV wearing nothing more than a T-shirt and shorts, but you need to wear the proper safety equipment when operating this equipment — including a full-face helmet that will keep the dirt and sun out of your eyes, long pants and sleeves to protect your skin and riding boots. Use a helmet communication device to wirelessly connect to your mobile device and the rest of your group. You can check the route and quickly coordinate with other riders without taking your eyes off your surroundings. 
It's best to stick to established trails when you're just starting out instead of forging new paths through the wilderness. The ground will be smooth with exiting tread marks so you don't have to worry about taking a wrong turn. Learn more about the dos and don'ts of dirt bike riding to enhance your experience.
Rock Climbing
Get up high to soak up the beauty of fall. Rock climbing is a great way to explore new areas once temperatures have cooled. You won't work up as much of a sweat as you would in the dead of summer, which makes for a more comfortable climb. It also gives you the chance to see all the colors of fall in one place. Find a climbing area or national park near you to start planning your first expedition. This sport can be as intense as you want it to be. Start off by tackling a single wall with clear hand and foot mounts. You can work up your skills and upper body strength at a local climbing gym. You'll need a certain level of experience and the proper tools to climb like the professionals. Experts say it takes at least six months to build up enough endurance and knowledge to climb a 1,400-foot mountain. But it's always nice to have goals.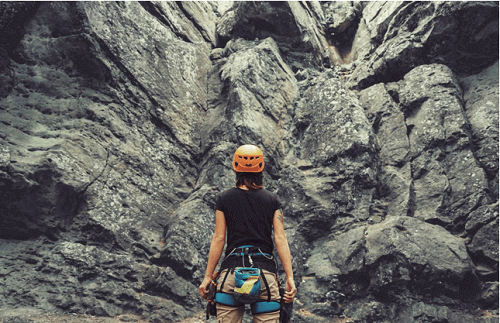 Ziplining
Fly through the trees on a zipline to see more fall action. It's a thrilling ride that doesn't require much training or experience. A professional zipline instructor will provide you with a harness that dangles from a secure rope hanging from the trees. You then push off and zip through the wilderness until you land at another ziplining station further into the forest. Some love the rush that comes with being up high, but you might not get much chance to take in the scenery if you are afraid of heights. 
Bungee Jumping
For an even bigger thrill, find a local bungee jumping company to experience the joy – and terror – of plunging from a great height. You essentially jump off the side of a bridge wearing a harness secured to your torso. The harness is attached to a bungee cord made of tightly woven strands of rubber. It will extend and retract as you bounce through the air. The staff will then lower you to a safe landing platform. This activity requires minimal training and preparation, but you do need to be fit and physically healthy to participate. 
Don't let the end of summer ruin your fun. Try these outdoor sports this fall to keep the good times rolling.