We asked a cobbler, a throwdown specialist, cheerleaders, a jersey supplier, and others how it would affect them if the tournament was cancelled.
In the normal course of things, the IPL 2020 champions would have been crowned by now. But these are not normal times. Instead of tuning in to live action, fans have turned to old YouTube videos. Players aren't talking to the cameras after Man-of-the Match performances, they are talking about life in lockdown on Instagram. Instead of high fives and huddles, we have social distancing and #StayIndoors.
It is still uncertain if the tournament will take place this year. If it does, it might be held behind closed doors, and it might be a shortened affair, and perhaps restricted to one or two cities for biosecurity. Apart from the fallout for players, boards and broadcasters, a cancelled, truncated or restricted IPL has ramifications for an entire ecosystem of participants. The Cricket Monthly spoke to a cross section of the less visible members of that ecosystem.
R Bhaskaran, cobbler
Bhaskaran has been witness to possibly every single international fixture in Chennai since 1993. He can't remember missing an IPL game there either. For the last 12 years, he has been the official cobbler for Chennai Super Kings. On a regular day, he operates from the pavement on Wallajah Road, just outside the Chidambaram Stadium. On match days, he operates from a small workstation outside the Players and Match Officials Area, much to the envy of others. Now, with the IPL indefinitely postponed, Bhaskaran faces a challenge to put two meals on the table for his family.
When there was business, I've had people coming over to repair their shoes on the pavement and then quietly ask if I can manage a couple of IPL tickets for them. On training and match days, I'm stationed beside the dressing room, with a small set-up of glue, scissors, needles, straps and buckles that I use to mend pads, shoes and helmets. The Tamil Nadu Cricket Association (TNCA) pays me Rs 1000 [about US$14] for a day's work. The players pay me separately, sometimes. On other days, I earn anywhere between Rs 300 to Rs 500 [$4 to $7].
I've seen MS Dhoni come to Chepauk since 2005. That was his debut Test. Over the years, our familiarity has increased. Even in March this year, when CSK had their camp, he came down, sat and spoke with me. I've even had tea with him; he insists I converse with him only in Tamil. He can string a few sentences together. He always calls me "machi" [brother], asks about my well-being. We're friends.
I've also stitched Sachin Tendulkar's pads. Those pads of his with buckles, they're different. Unlike synthetic pads of today, you need to punch holes and fix the strap if it tears. A few years ago, he even organised tickets for my family for an IPL game and met them afterwards. In fact, I've been attracted to the game only because of the players. If not for them, no one would remember me.
I've had no work since mid-March. The lockdown has affected my business. Over the years, people started associating me with CSK and cricketers, so I used to do a lot of repair work for kids going to cricket academies, apart from my work at TNCA. All those earnings have stopped now and we are currently living on two meals, if we are lucky. It is a tough life. Earlier I dreamt of opening a small shop instead of just sitting out on a pavement. I can't even dream of that now.
Kayleigh-Anne Thompson, Sophia-Rose Philpott, Chloe May, cheerleaders
Cheerleaders were a foreign concept, in every sense of the word, for sport in India. Now they are an essential part of the IPL. For many, the IPL is the professional highlight of their year, adding experience to CVs, providing decent income, and furthering their prospects in the dance or showbiz industries.
Kayleigh-Anne Thompson: I left my job for the IPL, so that was a bit of a situation. I was an au pair for a lovely family in America. I handed in my resignation a month earlier, so they found a new person to take over. I was going to save the money from India and then go back to America to au pair for a year.
We found out that IPL was no longer happening on the day of our visa appointment. I know a few girls were affected. I love going to India and experiencing all of India and the amazing atmosphere. But I do understand the circumstances and I will have to resort to another plan or job for money. At the moment I'm tutoring for a family as schools aren't running in South Africa.
Thompson was a cheerleader for Sunrisers Hyderabad in 2018 and 2019, and was contracted with them for 2020. She lives in Margate, South Africa
Sophia-Rose Philpott: In whatever industry you're in, if you know you're going to be earning money, you plan, don't you? Obviously, that's all gone. We've had to turn to other things. I was in Australia two months ago, and I was going to go from there to India for the IPL. But then this happened and I came back to the UK, because all my work got pulled.
It's been a stressful time. Emotionally as well as financially. And as a performer as well, to be going without performing for such a long period of time is not great. With the IPL, the money is good, but the whole experience is great.
I've been lucky that I'm still able to teach via Zoom in some of the schools I was teaching at in Australia. That way I get to dance once a week. I've also had to take a job at the supermarket. I'm doing night shifts. We get online shopping orders, and I go down the aisles, select people's food, put it in the basket. No other work at the moment. I'm just taking anything I can to keep me going.
Philpott was cheerleading for the Mumbai Indians last year, and was contracted to them again this year. She lives in Birchington, UK
Chloe May: I've been lucky to get a job from home. There's an online live-streaming networking site, and you can make money as an influencer. It's called Bigo Live. It's very popular in China, Singapore and other places. No one really knows when things are going to go back to normal life, so to go back to my dance-teaching job will take a very long time, I think. If I'm able to do the IPL again, that would be my No. 1 priority.
May cheered for Sunrisers Hyderabad in 2019, and was contracted to the Mumbai Indians in 2020. She lives near Canterbury, UK
Shahbaz Ahmed, IPL rookie
The IPL has served as a springboard for domestic players. Shahbaz Ahmed had a fantastic season with bat and ball for Bengal across formats, which led to an IPL contract with Royal Challengers Bangalore. He was sold at his base price of Rs 20 lakh (about $26,350). His domestic season finished on March 13, with the end of the Ranji Trophy final. The IPL was to begin a fortnight later, providing him the perfect break to rest, train and still carry momentum into the tournament.
This would have been my first IPL season, and the excitement of a first season is different. My domestic season had gone really well, and I had built some good momentum in my cricket. If IPL doesn't happen this year, I'll have to build that momentum next year again.
I had gone for trials only for Mumbai Indians. Apart from that, Sunrisers Hyderabad had called me but I had a Ranji match two days later so I didn't go. RCB didn't call me for trials, but they must have followed my performance and maybe that's why they picked me. I hadn't thought so much about or planned for the money I would have got. That would have been decided later, once the money came.
My parents and younger sister are at home. My father works in the district collector's office in Mewat in Haryana, as the PA to the district collector. My mother is a home-maker and my younger sister is a doctor. My father has to go to the office during the lockdown, since it's a government office. He is safe there, as there aren't many people in the office.
I think positive. Whatever will happen, will happen for the good. The situation is such that first this virus needs to go. Everyone will have to make a fresh start because it looks like there will be a long delay. For any player to come back after such a long break is difficult. No one has seen such a phase, so we can't really say anything about it. Whenever things get better, I'll start practising again. Right now the problem is that I am not able to practise.
Roshan Baid, merchandise and jersey manufacturer
Baid has been associated with the IPL since its inception. Alcis Sports, the company he runs, has been the single largest merchandise and jersey supplier for Royal Challengers, Mumbai Indians, Rajasthan Royals and Kolkata Knight Riders. In 2019, it also signed on as a merchandise partner with Royals, by which their logo and name was printed on match and training kits. Production at the factory was in full swing until March 15. The following day, franchises asked them to keep all stock on hold. Later that day, they were informed of the indefinite postponement of the IPL. On March 24, they were forced to shut their production units in Noida. Towards the end of May, some staff returned to work.
Over the years, from a team of 40, we expanded to a 200-member team for our IPL project alone. But with our units locked down and client payments yet to come, we were forced to lay off a good chunk of the workforce. We've got Rs 1.5 to 2 crore [$198,000 to 264,000] worth of inventory stuck in our godown.
For two teams, we have a huge contract for fan merchandise sold at retail stores, on websites, and at stadiums. Even if the IPL happens behind closed doors, fan merchandise won't sell, so that is a loss we have to bear. We're also a sponsor with Rajasthan Royals, and we stand to lose the visibility.
We opened our units towards the end of May with 30% work force. Production has scaled down considerably; there's zero demand even outside the IPL. There's so much inventory stuck with no way to offload it to the consumer.
We had orders from six of the eight teams at one point, but took up the job for only four franchises because there was so much demand. Now, things are different. We wanted to establish our brand presence and were already operating on small margins. This has hit us really hard. Our connect with the IPL helped extend our partnerships with a few other suppliers and clients, but no IPL would mean a significant loss.
V Narasimhan, throwdown specialist
The ability to bowl the carrom ball in college got V Narasimhan noticed. His college captain Malolan Rangajaran, the former Tamil Nadu offspinner, would turn to him whenever he needed a net or throwdown. Narasimhan, 28, has had stints as a net bowler and throwdown specialist at the Tamil Nadu Premier League (TNPL), the Gen-Next Cricket Institute (an academy run by R Ashwin), and the Tamil Nadu state team. This year he was to assist Stephen Fleming at Chennai Super Kings, and even took part in the preparatory camp, until the coronavirus postponed the IPL indefinitely.
I was good friends with Kaushik Gandhi and R Rohit in college, and they had just broken into the Tamil Nadu Ranji team. My dream was to play for the state but I couldn't, so I took great pride in bowling to these guys in the nets regularly. It started off as a passion, but from 2017, when I lost my job as a team lead with an e-commerce company, I've taken up cricket full-time. When Gen-Next offered me a job as an assistant, I was paid Rs 9000 [$120] per month, a steep fall from a job that used to pay me Rs 50,000 [$660]. But the passion for cricket kept me going, and slowly one thing led to another.
For the last two years, I've been part of Tuti Patriots and Lyca Kovai Kings in the TNPL. This year, I signed with Chepauk Super Gillies. Last year onwards, I'd also started working with the Tamil Nadu team. So for an outsider with no background of cricket, this has become my livelihood now, and it keeps me busy for ten to 11 months a year, if you include the IPL. A stint in the TNPL pays me roughly Rs 75,000 to Rs 80,000 [$1000 to $1060] for a 40-day period, if you include the allowances and other variable pay. A contract with Tamil Nadu pays more, of course.
CSK was in the process of working out a contract for me. Initially it was just to assist the team during the training camp and home matches, but they were willing to have me travel if the coaches felt we could get in multiple training sessions. Then, because of the pandemic, things came to a halt. Obviously, initially when I took a massive pay cut, finances were a slight worry but I was very happy with the job. Today, I pinch myself when I think that I've given MS Dhoni or Suresh Raina throwdowns.
I have a newborn daughter, so that has got me thinking about my Plan B. Unlike a full-time job, freelance professions run on contracts, so there will always be uncertainty, but at least the job is exciting. It's not easy being a throwdown specialist: you need to have the same intensity right through, so I'm working on strength training for my shoulders and keeping my fitness up.
I've always had the habit of spending money very carefully. Friends and family would often tease me for being stingy, but I guess those qualities are helping me get through these times. I'm currently living off my savings. So what if I can't get three meals? Until cricket resumes, I can settle for two.
Rahul Rajh, scorer
Scorers are part of the largely invisible crew that keeps a match running smoothly. For some, such as Rajh, scoring provided enough of a livelihood to take it up full-time. He quit his corporate job because asking for days off to score a Vijay Hazare Trophy or Ranji Trophy game was getting increasingly tough. As he explains, the IPL offered more than just scoring opportunities.
The IPL makes a decent contribution to our earnings – approximately Rs 10,000 [$130] per match, which works out to Rs 70,000 for seven home games [$922]. We get the same payment for an IPL match that we do for an international match. It is double what we get for domestic matches.
There are many scorers who are completely dependent on their cricket income. I know the local associations are taking care of such people. Like the Karnataka State Cricket Association, they have given a lump sum to individuals to help them through these months of uncertainty. It's like a salary advance: they help you out now and they might deduct some amount in the future. But it's still a very good initiative. In parallel, there was a team formed by the BCCI's scorers and umpires. They identified around 25 people and helped them out. Voluntary contributions were requested, and a good amount was accumulated.
In terms of money, the IPL is two months of earning. But it's not just about the money in the IPL. You get to see matches and watch international cricketers in action. You get passes so you can take your family and friends. You can get an opportunity to do scoring for the video display, on the big screen that's in all stadiums. If you get a contract with such companies, you get to travel the whole IPL to several locations. If you get a contract with All India Radio, again you get to travel, and you earn a decent amount. Typically, scorers get these contracts. So all these opportunities are lost.
I quit my job last year to focus on scoring, but I'm planning to join back somewhere now. If there is no cricket for another five-six months, it will get difficult to survive.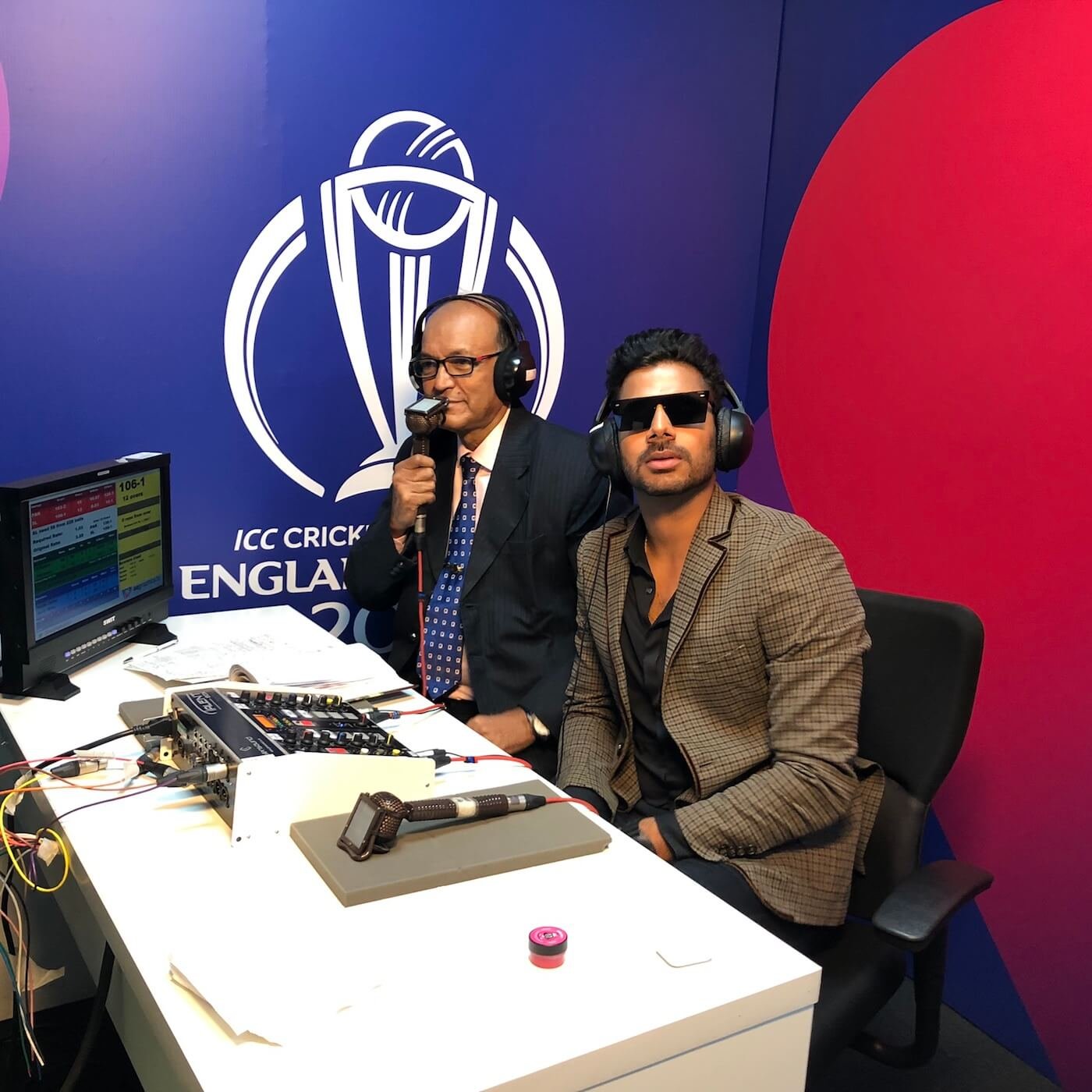 Manoj Tiwary, budding commentator
The recent surge in regional commentary has led to new opportunities for cricketers. The IPL is at the forefront of those opportunities. For someone like Tiwary, it is the only avenue. While he would rather be playing in the IPL, he was not picked, and he settled for the next best thing: a commentary gig for Star Sports in Bengali. Tiwary is still an active player for Bengal, and also has to consider the ramifications of the packed calendar once sport resumes.
During the IPL, if I'm not playing, I'm totally free. So it was a good idea for me to do this. Last year, they liked what I did for them in commentary.
On the financial front, it will definitely affect me. When you have a young family, you plan a lot of things. This commentary stint was one of the aspects I was looking forward to – career-wise for the future, as well as monetary-wise. It won't change anything for now. If no cricket persists for another year, then, yes, it will affect things.
When everything starts again, hopefully IPL doesn't clash with something like the Ranji Trophy, because then I'll have to choose one of them. Since I'm an active player, it will be difficult. For domestic seasons the preparations start well in advance. No one should take it easy or take it for granted and think that even if you miss the training camps, you'll be okay to join the team.
There are times when I think about what to do next, what the future holds. But for now I've made up my mind that I'm going to continue as a player in domestic cricket.
IPL umpire
The lot of domestic umpires in India has improved in the last couple of seasons. The top 15 to 20 are chosen for the IPL, which enhances their earnings and serves as a great learning experience, with big crowds, high-profile players and the pressure of increased scrutiny. An experienced domestic umpire, who has officiated several seasons in the IPL, broke down the financial aspects of a cancelled or shortened league. He did not wish to be named.
For an umpire, the IPL is a bonus at the end of a season. The umpires who have had a good run during the domestic season go on to be rewarded with IPL contracts – on-field, TV, fourth umpiring. It's like your performance-based incentives in the corporate world. A few Indian match referees are also involved in the IPL, and the same system is used to select them.
With the payment in domestic cricket being restructured in the last couple of years, umpires get about Rs 30,000 [$395] per day or Rs 40,000 [$530] per day, based on their grade. Say, you look at about 50 days of umpiring, you end up with about Rs 15 lakhs per annum [$19750], which is a decent enough sum in our country. The bonus for umpiring in the IPL is about Rs 5 lakh [$6590]. That won't come. Obviously, losing out on that bonus is a hit, but not one that will cripple people.
Unless you are one of the international panel umpires in India – there are four currently – I don't think anybody is guaranteed an IPL contract at the beginning of the season. If somebody is daring enough to plan something factoring in IPL income – and it doesn't happen, how do you face it?
If there is a curtailed IPL – if instead of 60 games you have 30, obviously you need fewer officials working and fewer games for them. No word from the BCCI yet on that. The only thing we have got is from the state association, saying the world is down and out so we have to wait for things to get better. We have no idea. We are all going by what the media and the bigwigs are saying.